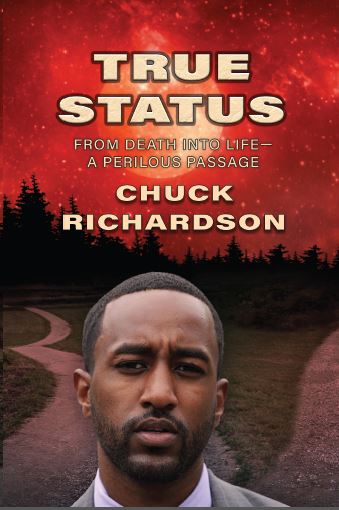 True Status is a tale of Christian mystery, suspense, and spiritual warfare with a bit of romance.
True Status is a mysterious and entertaining novel about Billy Yates, and it is also the story of God's pursuit of every human heart with the gospel of Jesus Christ.
Billy Yates, a forty-two year old Black college math professor, holds deep skepticism about God's goodness and power, but after a series of strange occurrences, Billy realizes that he is the prize in a terrifying spiritual battle between good and evil.
While recovering from surgery Billy is confronted by an angel who challenges him to examine his past rather than accuse God of wrongdoing. After the surgery, Billy discovers a strange message on his body that he believes is from God. Confused and afraid, Billy accepts the angel's challenge and in so doing he learns the depth of his own sinfulness which plunges Billy into despair. Ezriah Reynolds, a Christian and Billy's best friend, encourages Billy to join him in taking a seminary class called Jesus in the Old Testament, and for the first time in his life, Billy seriously considers what the Bible teaches about covenant, sin, and salvation. Billy, smitten with Nurse Angeline Otl, begins pursuing her even as his surgery commences. Angeline struggles with her own past, but she and Billy draw together and become vital pieces in the other's spiritual journey.
Praise for True Status
"True Status is a life-transforming book that possesses the ability to inspire the reader to possibilities of tremendous proportions." Bryan C. Jones, Senior Minister of Newburg Church of Christ in Louisville, Kentucky, author of Finding My Good Thing, The Art of Soul Winning & The Converted to Christ Personal Bible Study Series.
"True Status is a spiritual page-turner that pulls back the curtain to reveal the cosmic battle between God and Satan over the salvation of humanity. It brings us on the fascinating journey of one man's search for meaning and redemption. From the first paragraph until the story's conclusion, Chuck Richardson reminds us of the power of faith, the boundlessness of God's love, and the infinite worth of the human soul." Carol Schlorff, author of How to Kill a Giant
"With shades of Pilgrim's Progress and The Screwtape Letters, this novel takes the reader alongside Billy Yates's journey from disbelief to faith in Christ. In the presence of angels and demons, we are treated to glimpses of his past life and the challenges of the present which he must reconcile to make a decision to follow Christ. Speculative fiction readers will particularly enjoy this book, but I recommend it for general audiences as well." Linda Wood Rondeau, author of Lessons Along the Way and Ghosts of Trumball Mansion
"In True Status the author, Chuck Richardson, crafts an intriguing story that takes the reader into the consideration of these big questions we all have. As the events of the life of Billy Yates unfold, readers may find themselves asking how such events are unfolding in their own lives. This is a book that is worth reading, sharing and discussing. Enjoy the journey this book can take you on." KeRusso, author of When God Speaks…Will You Hear? and Leviticus Alive! Your God May Be Too Small
"First the story really excels in drawing from the prophetic and apocalyptic literature of the Bible. The visions and encounters with other worldly creatures are clearly a homage to the individual visions of the prophets in the Hebrew Bible. Later in the book when Yates starts engaging Christianity more directly, there is a real strength in the conversations that come from the Bible classes that Yates attends. These conversations are especially rich with the discussions that occur outside the Bible class, with many ideas and questions coming up. In these conversations you get a glimpse of the nuance and complexity that comes from following Jesus and studying the Bible." Stephen Lamb, Associate Pastor of Youth Ministry, Living Water Community Church, Chicago, Illinois.